A feature posted on the Albuquerque, Roswell & Ruidoso Journal website dated December 3, 2013 discusses the drop in the average price of homes in the New Mexico region due to several housing distress cases. While such figures might be telling of a less-than-favorable housing market recovery, there's actually a silver lining behind these statistics. The article shares the figures as recorded by industry experts: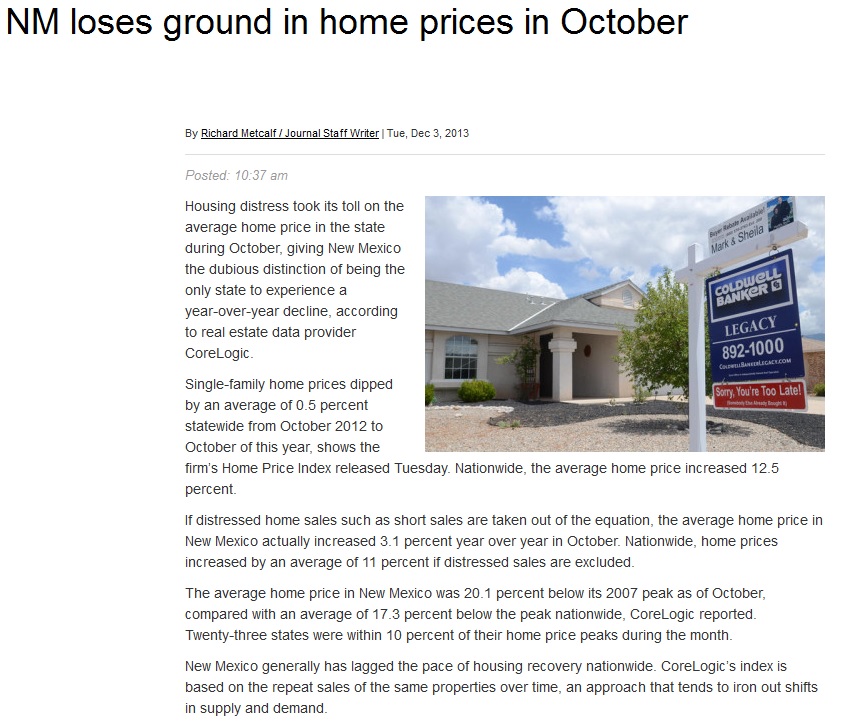 Single-family home prices dipped by an average of 0.5 percent statewide from October 2012 to October of this year, shows the firm's Home Price Index released Tuesday. Nationwide, the average home price increased 12.5 percent.
If distressed home sales such as short sales are taken out of the equation, the average home price in New Mexico actually increased 3.1 percent year over year in October. Nationwide, home prices increased by an average of 11 percent if distressed sales are excluded.
The average home price in New Mexico was 20.1 percent below its 2007 peak as of October, compared with an average of 17.3 percent below the peak nationwide, CoreLogic reported. Twenty-three states were within 10 percent of their home price peaks during the month.
With home prices on the decline, the market presents the perfect opportunity for buyers to dive in and start snapping up properties. In particular, those who are looking to buying a home for the first time should take advantage of the situation, before home prices and interest rates start rising the following year. The smart Albuquerque, Roswell & Ruidoso first time home buyer will understand that the process can be confusing for someone without experience, and will enlist the aid of a local real estate expert like Chad Petty to close a favorable deal.
Those buying their first home might want to consider a foreclosed property or a short sale. Such homes are typically sold at very attractive prices, and may be perfect for first-time buyers, who are typically younger professionals just starting to make strides in their careers. Acquiring foreclosed properties means the new owners get to pick up the previous owner's equity, resulting to savings.
Houses on short sale, on the other hand, can be just as good a deal as a foreclosure, but the market for such properties can be fiercely competitive. Inexperienced buyers attempting to find the right property on short sale could easily find themselves being beaten to the punch by seasoned real estate investors or buyers. Thus, a first time home buyer in Albuquerque, Roswell & Ruidoso will need the expertise and services of a professional in order to quickly find and close the hottest property deals in the market.
(Article Excerpt and Image from NM loses ground in home prices in October, Albuquerque, Roswell & Ruidoso Journal, December 3, 2013)