Newlyweds will make a lot of important life decisions together, and one of the first important ones is when to buy a house. As any Albuquerque, Roswell & Ruidoso first time home buyer knows, however, the process can be rather convoluted and mistakes are liable to be made. This helpful article from USNews.com cautions against a common one that many newbies commit:
"Searching for the dream home before getting prequalified for a loan.
Save yourself the disappointment of not being able to afford the home of your dreams by getting prequalified for your loan before you start house hunting. Instead of picking out a price range and searching listings, take the time to talk to a lender about how much house you can realistically afford and what the monthly payment breakdown – with all taxes and other fees included – will be. The amount you are preapproved for will help you create a realistic budget for your home search."
First-time buyers also tend to fall in love with a house without considering their short- and long-term needs. For example, those who want kids should choose a house that has enough room and is close to reputable schools. If both spouses are working, proximity to work place should also be considered.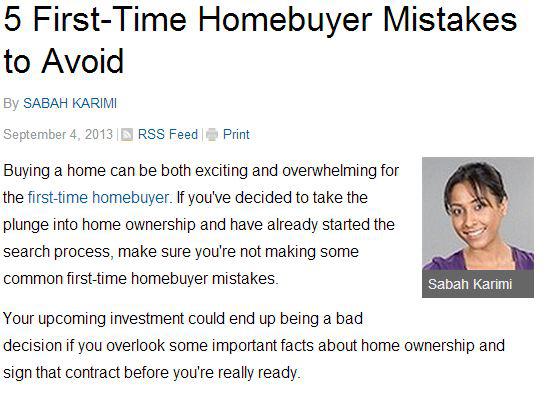 As a first time home buyer in Albuquerque, Roswell & Ruidoso, a newlywed couple may also neglect the importance of hiring a good real estate agent. The home-buying process involves a lot of legalities and paperwork, and going to open houses can be very time consuming. A trusted agent like Chad Petty of Equity NM Realty will ensure that all the legwork are taken care of and will show clients only properties that meet their needs so they can find their dream home as soon as possible.
(Article Information and Image from 5 First-Time Homebuyer Mistakes to Avoid, USNews.com, September 4, 2013)